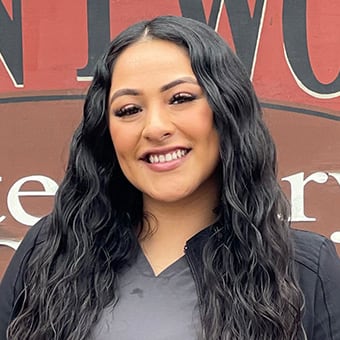 Eve Morales was born in Santa Ana, California, but grew up in Nashville. After graduating from Glencliff High School, she attended The University of Tennessee- Knoxville and studied microbiology with a concentration in animal science from 2013-2017. While in Knoxville, Eve worked at several emergency animal hospitals and private practice veterinary clinics.
Since moving back to Nashville in 2017, Eve grew into various leadership and training roles at the animal emergency hospitals she had worked at, and later came to Brentwood Veterinary Clinic in 2021 with over 10 years of experience as a veterinary technician. In July of 2021, she became the Practice Manager of Brentwood Veterinary Clinic, where she oversees business operations.
She has also adopted two cats, Tini and Tito, and an American Staffordshire Terrier named Dulce. In her free time she enjoys spending time with her family, writing poetry, and planning trips. Eve has a strong passion for the human and animal bond as well as providing a high quality of care and aims to implement these passions into her role as Practice Manager.